Have you ever met someone who could save your life financially, protect your family before AND after a fire, flood or some other natural disaster and didn't charge you for it? That's what WE do for YOU!
We at Horizon Insurance are committed to protecting the things that are most important to you…your home, your family and your business. Our vision is to be an agency where people talk about their relationship with us and how caring we are, even more than they talk about how much they enjoy our outstanding customer service! We want people to say they have never done business with an agency that is like us. We will do what's right for you, our client, even if that means telling you to keep the coverage you already have.
Our philosophy is: "Do what's right for the client and you can NEVER go wrong!"
At Horizon Insurance we are all about protection and education. We want to make sure you get the coverage you need at a price you can afford. But really it's more than that. We also want to make sure you understand what you are buying so we take the extra time to review and explain your coverages to you so you can make an informed decision about your insurance protection.
The History of Our Agency
Horizon Insurance got its start back in February 2004 when Lori P. Augustyniak purchased the Gehrich Agency. The Gehrich Agency was originally established in March 1988; so I guess you can say Horizon Insurance has been around since then. In September 2009, we expanded our business when we bought the Don McMillen Agency in Port Charlotte. So not only are we local in the Sarasota/Bradenton area we are also available to serve you in the Port Charlotte/Punta Gorda area too! In 2015, Ronnie Grubbs Insurance Agency merged with Horizon.
Why do business with Horizon Insurance?
Unlike a captive, or direct insurance company who only offers their own proprietary products, our agency is 100% independent of any one company. Many insurance consumers don't fully understand just how important that really is.
When it comes to something as important as insurance, it's imperative that you work with an agency who has an in-depth knowledge of multiple insurance products, companies, and guidelines — not just one.
At the end of the day, what separates one agent from another, is their ability to proactively service their policy holders, and their knowledge of the insurance industry, products, and different situations that may present themselves to their clients.
Independent Agent Vs. The Rest
Here is a quick comparison of the differences between an independent agency like us, and the various other types of companies that are out there: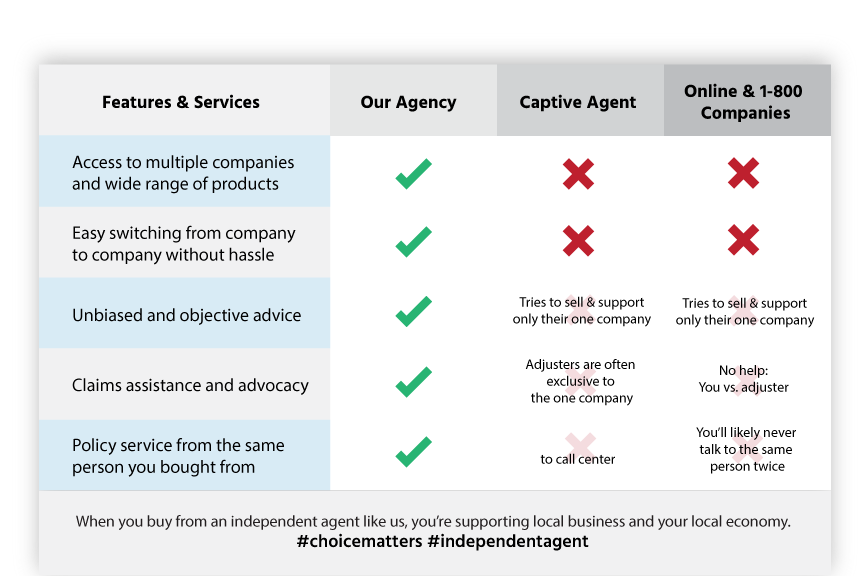 If you'd like to get started with a complimentary quote and/or policy review, we'd be happy to help you any way we can. Simply complete the fields below to get started online in a matter of seconds.
We appreciate the opportunity to help you, and look forward to servicing your insurance needs! Feel free to call us directly if you have more detailed questions.